timeless-Hand Bound Journal
$65.00
7 1/2 x 6 1/2 inch hardcover, hardbound ORIGINAL journal.
Each of these journals contains a mix of 25-35 pages of canvas, water color paper, card stock and copy paper hand bound.
In addition, each journal will include colored pencils, graphite, ink, glue stick, and assorted ephemera and stickers to help get you started in your creative journaling process!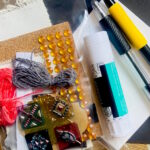 We all need a little inspiration from time to time! Happy journaling!
In stock