"…our creativity helps us makes something beautiful and whole out of the pieces of our existence. It reveals to us the truth of our soul in the place of our own resurrection." -Karla Kincannon
With this class I hope to create a safe place for people of all walks of life and ages to explore and embrace their own creativity while gently revealing the beauty within our imperfections.  Through a series of creative exercises I will guide you deeply into your imagination where you will begin to discover your Truth.  We will start to pull words, images, colors and textures out of that truth and begin the process of deconstructing the walls of limitation, servitude and confinement we have all been serving a life sentence too.  I will offer different techniques and ideas and a bottomless pool of possibilities to get you started with journaling your pilgrimage into self discovery.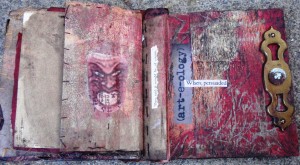 FAQs
Do I have to have any experience with art before taking this workshop? 
Absolutely not.  I have the workshop designed so anyone, regardless of skill level, will feel comfortable.   The class is less about teaching skill but teaching creative freedom.
What kind of material will i need to bring to the workshop? 
I will provide everything needed for you to get started including the journals.  However, I do encourage you to feel free to bring different "found objects" or pictures or words that may hold special meaning to you or are symbolic of something larger.
I already have several journals at home I have been working on and want to continue working in them just in a different direction.  Is that okay?

Yes!  I would love for you to incorporate something new into what is already started.
I have always wanted to try something creative but have always been extremely intimated and shy.  How do I know this is the right workshop for me?
Because this class is not about teaching you "how to paint" or "how to draw."  Instead, I will be introducing you to what already exists inside of you.  I will be showing you how to access that creative part of yourself in a way that is nonthreatening and liberating.


For more information or interest in signing up for the class click here and fill in all required information.
Coloring outside the lines is a fine art.  ~Kim Nance